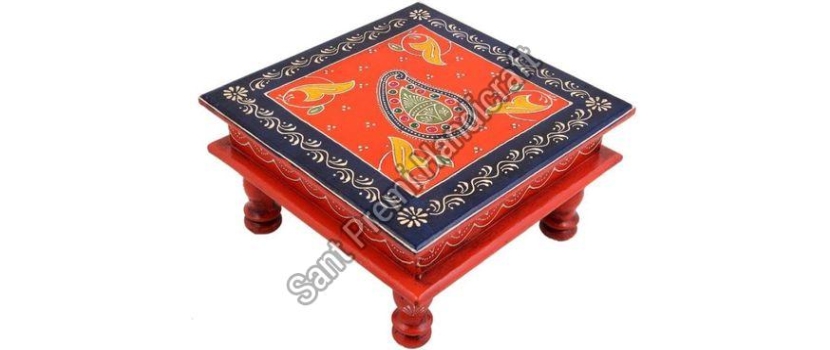 Gujarat is known for its rich culture and its beautiful temples are a tourist attraction for people from all over the Globe. The handicrafts available in Gujarat is by far one of the most exquisite and unique and it is bound to add a vibrant and positive vibe to any living space. Why not add vibrance to your pooja ghar? Gujarat is home to a large population of Hindu devotees, and their culture and handicraft are built for the best of the best pooja ghar requirements. They are a strong believer in Hindu Gods and their handicraft is unparalleled across India and Globally. If you have your doubts, start small. Try adding a beautiful marble pooja chowki. Marble pooja chowki in Gujarat is considered to be an art form. Their unique design, beautiful colour, top-quality marble, and perfectly cut stone will make a great fit for your holy place.
What are the benefits of a marble pooja chowki?
There are indeed Pooja Chowkis available which are made of different materials but the ones made out of marble hold a golden status. Marble is considered to be a luxury and a symbol of beauty. Even in ancient Greece, the rich and the powerful had statues carved out in marble. Your pooja ghar is sacred. It is not only a place of worship but a place that offers peace, relief and helps an anxious mind find solace. Pooja ghar is a good omen and it deserves to have the most beautiful and pure ambiance.
A marble is a metamorphic rock that is translucent. The translucent property of marble gives it a beautiful glow and it has the ability to take a high polish. Marble is a soft rock which makes it one of the best rocks for sculpting and shape cutting. The softness of the rock allows detailing but at the same time, being a rock it is sturdy and strong enough to withstand heavyweight. The rock also has a uniform composition throughout.
These properties of marble make it a luxury to own.
Qualities to look for in a Pooja Chowki
Pooja Chowkis should be strong, sturdy yet beautiful, and elegant looking. Marble has all the properties to provide that look. A pooja chowki is essentially meant to be the grand seat on which the statue of a Goddess or God is meant to be placed. Presenting the best of the best to divinity is a sign of love and respect. The marble pooja chowki will last for a very long period, so it is a one-time investment. Most other pooja chowkis end up having a dent on it due to a prolonged time of holding the weight of the statue. A dented or uneven surface can make the Statue look oddly placed. There have been cases where the expensive statue has slid off the uneven surface of the pooja chowki resulting in that statue enduring cracks. This is a bad omen and it should be avoided. Pooja Chowkis made of marble will stand strong even after 100 years. Even a heavy Gold statue cannot dent the surface of a marble chowki and the elevated surface keeps the pooja offerings away from the floor. Marble has a natural property of cooling. In hot countries like India, having a marble structure is a benefit. The cooling property keeps the surrounding cool and any prasad or flower kept on the marble will remain fresh for a longer time.
The role of marble in Hinduism
Faithful devotees of Hinduism have built temples made out of stone for ages. Making Marble temples and marble singhasans for the Gods and Goddesses is a common practice in India. In the old days, there was no concept of air-conditioners; however, India was a hot country and temples were a place that was often crowded. Kings and Queens held regular events and celebrated festivals in big temples made to fit the entire population of the kingdom. These temples were ordered to be made using the best quality marble by the all-powerful Hindu king. The reason behind it is scientific. The huge beautifully detailed marble structure would be cool and pleasant on hot summer days on the inside. Natural eco-friendly air conditioning! Following the wise example of the Indian kings, Queen Victoria of England ended up building the Victoria Palace in West Bengal, India with the most expensive and finest quality of Indian marble. India has stood as a rich cultural and architectural wonder for centuries. The Taj Mahal, also made of marble is considered to be one of the 7 wonders of the world.