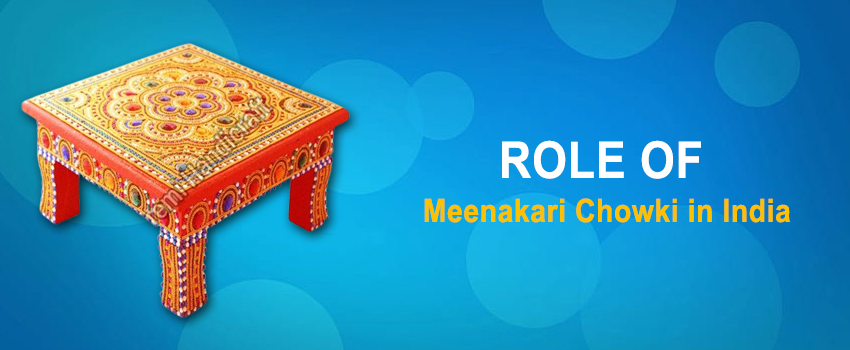 Meenakari Chowki is a style of decorative tabletop tray or platter. It is used historically in Indian homes for meal service or as a decorative item for special occasions.
Meenakari is a translation of the Persian word "Minakar," which signifies enameling. Metal surfaces, typically copper or silver, are embellished with vibrant motifs using enamel in the meenakari technique.
The preservation of traditional Indian art and culture is greatly aided by meenakari chowki manufacturers. Melting colored glass or metal and pouring it into the grooves that have been carved on the metal surface is the technique. Meenakari Chowkis are often available in a variety of sizes. They are formed in either a circle or a square.
The elaborate patterns and decorations that embellish them are frequently drawn from natural elements like leaves, flowers, and birds. Meenakari Chowki is typically composed of painted and enameled metal, such as brass or copper.
A few distinguishing qualities of Meenakari Chowki are as follows :
Design
Meenakari Chowki has an extremely complex design with vibrant enamel work. Typically, natural elements like flowers, birds, and animals serve as inspiration for the designs.
Color
The brilliant colors of Meenakari Chowki are a result of the combination of enamel and paint.
Functionality
Meenakari Chowki is frequently used as a decorative element. But it can also serve as a pedestal or a small table when needed.
Durability
Meenakari Chowki is a product that is extremely resilient to wear and strain.
Cultural Importance
Meenakari Chowki is a crucial component of Indian culture. It is frequently used at religious rituals and holidays.
Meenakari Chowki's Significance To India
For decades, Meenakari Chowki has played a significant role in Indian heritage and culture. A highly skilled art form that has been passed down through generations of craftspeople in India is meenakari craftsmanship.
In India, Meenakari Chowkis are frequently used during ceremonial and religious events. For instance, Lord Ganesha's idol is set up on Meenakari Chowkis during the Ganesh Chaturthi celebration. Similar to this, diyas (lamps) and other ornamental things are set up during Diwali using Meenakari Chowkis.
Meenakari Chowkis are frequently given as gifts at weddings, housewarming parties, and other important occasions. They are also used as ornamental items in houses. Meenakari Chowkis are prized for their complex designs and the work and labor that go into creating them. Meenakari Chowkis are cherished for their beauty and craftsmanship and play a significant part in Indian culture and heritage.
Conclusion
Meenakari Chowki is well-known and adored throughout the world for its exquisite craftsmanship, cultural relevance, and aesthetic appeal. In addition to being well-liked in India, Meenakari Chowki is a highly sought-after decorative item everywhere in the world. Because of its distinctiveness and elaborate designs, it is frequently regarded as a work of art.
Especially during festive times like Diwali and weddings, Meenakari Chowki is a well-liked gift item. Additionally, Meenakari Chowki is a well-liked gift, particularly during festive events like Diwali and weddings. As a sign of affection and gratitude, it is frequently given to family members, friends, and coworkers.