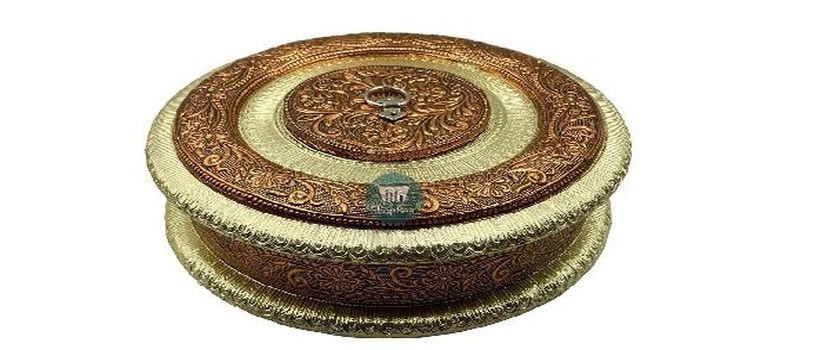 When you are up to presenting a gift on special festive occasions like Diwali in India, Round Wooden Dry Fruit Boxes are the primary choice. Health-conscious people usually prefer buying dry fruit boxes instead of other gift items. Hence, there is a surplus demand for these boxes in the market. The Round Wooden Dry Fruit Boxes Manufacturers push up their manufacturing to fulfil the needs on time. The dry fruits filled in it are the reason behind the massive popularity of wooden boxes. Instead, their appeal, design and other characteristics like slim design, glossy finish and lightweight, make their unique gift items. It is available in different shapes; however, a round shape is most preferred.


By considering clients' different requirements, the leading manufacturers offer the entire range of boxes in various sizes, shapes and designs in which round is the most preferred one.


Here are some excellent reasons for buying and giving Round Wooden Dry Fruit Boxes:


Compactness makes it preferable
Throughout the year's people have come up with dozens, hundreds and perhaps even thousands of different storage ideas to accommodate all the objects they have. While this may not represent a big challenge for some people, many live in tiny houses or flats with small storage space to hold. At this point, instead of searching technology for a helping hand, perhaps it would be smarter to look a little into the past and rediscover wooden boxes.


Outstanding usefulness for storage demands


While there are many technological products and innovations in the storage industry, wooden containers have been in use for many years already and with huge success. They have permitted generations upon generations to safely store their items without having to worry excessively about Mother Nature or someone stealing them. Indeed, most wooden boxes are pretty solid, which is a relaxation considering it is the first thing they are to be, apart from spacious.
Handiness and Affordability are considerable.


Another thing that many people find convenient when it comes to wood because they are pretty cheap and easy to make. You could get some wood and make your boxes by yourself. Instead of buying them, you can safely make a bulk purchase, spending much less money than you would on another storage unit. It is perfect for home decor, table and centrepiece for your guests. This is a multifunctional case, which can store spices, dried fruit and preserve jewellery.
Reusable and environmentally friendly
Unmanaged disposing of plastic boxes can cause soil contamination and water pollution in landfills, bringing irreparable harm to the environment. One of the most important advantages of using wood boxes other than plastic containers is that the material is eco-friendly. So, it does not provoke environmental damage.
Perfect piece of decorations
As you probably can explore, wooden units are available in a massive variety of sizes, but that is not what they have going for them, as far as diversity goes. Over the years, wooden units have become popular among artists, with many choosing to carve their art into them. As a result, there are many wooden boxes that have the same purpose as normal ones, the only difference being that wooden boxes are also a piece of art apart from a storage item only. However, wooden boxes in round shape can be used to store your belongings and as decorative objects.
Useful as a token of love and affection
Beautiful handcrafted dry fruit boxes have been used since the dawn of civilization. The boxes are a source of goodwill and grace for the home – whether they're big handmade dry fruit boxes or tiny and beautiful boxes for home decorations or gifts. It looks extravagant when you portray your love in those lovely boxes our professionals sculpted. They show your special affection and express your appreciation and desire.
It is perfect for home decor, table and centrepiece for your guests. This is a multifunctional case, which can be used to store spices, dried fruit and keep jewellery. These round boxes of wood consist of varied decoration items being made of fine wood, pure metals, valuable stones, and sensitive mirrors. These embellishments optimize your gift. It increases your respect and your affection and good wishes for your loved ones.


The leading Round Wooden Dry Fruit Boxes Manufacturer produce an outstanding range of boxes using high-quality wood for various occasions.


They come with salient features:
Best quality

Affordable price

Wider range

Nationwide delivery

Specially crafted
They are easy to approach and place orders online.
This entry was posted on January, 14, 2022 at 14 : 56 pm and is filed under Home Decor Products. You can follow any responses to this entry through the RSS 2.0 feed. You can leave a response from your own site.