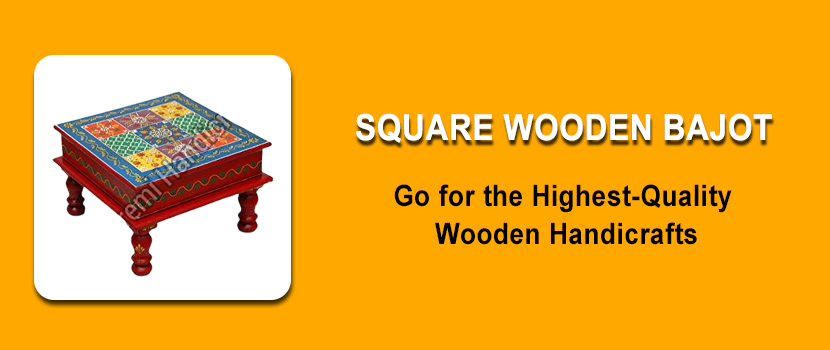 Square Wooden Bajot Manufacturer promises high-quality wooden handicrafts. Just go for the best design and patterns available for you.
Are you looking for wooden handicrafts that add energy to your interior? If yes, you can look for an earthy, down-to-earth, rural, or conventional look and feel. An adaptable material, wood has been utilized for years to create a broad collection of products which includes home decoration.
Wooden handicrafts just hold value and charm to this day, particularly when made with top quality and tough timber. It is treated with confirmed preservation techniques to resist damage and prolong the product's life. Different highest-quality wooden handicrafts are prepared the conventional means by professional artisans using hand-carving techniques passed down through creations.
Square Wooden Bajot is a suitable product to give your pooja room more decorative. There are lots of Square Wooden Bajot manufacturers available in the market who are manufacturing the best products. Now, you can give your puja room an attractive touch with conventional and spiritual chowkies. If it is a festival like holi, Diwali, or any special fast, the bajot will help you to perform the ritual at home with the grand and specially planned chowkies.
• The product is ideal for keeping idols keeping Diya, pooja essentials, and Incense Stick Holders.
• The chow ki is adorned with a vibrant color design
• The Barot is made with a wooden base strong and durable
• They are easy to clean with a wet cloth
• Product Dimension- 15 X 15 X 3 Cm.
When we see and think of a barot of wood that can be used for prayers, we automatically think of a puja. It is even easy to place your statues and other things on them. You must place it on the ground. Think about Bajot with a beautiful corner mat. Put in some flowers and provide the room a yogic such as meditative peace, so that in prayer and introspect, one can lose yourself similar to no other.
A piece of the Decorative Barot can be widely used in pairs in each corner of the sitting room to place large attractive vases or even brass urns. The space not just appears wonderful but even gives your space simply a comfortable lift that gives harmony. You wish to select shapes such as squares, octagons, or even circles. The special carving on the lower edges and the legs must be carefully selected to be chosen to match the whole idea concept. Moreover, the Barot is on top of it with small white crystal-like tiles and urns and vases.
Get the delivery worldwide
To make the product easy to access, Square Wooden Bajot Manufacturer gives faster deliveries all over the world. So, no matter, where you are living or doing business, you can contact the team to place your order. The manufacturer also accepts bulk orders and promises to give something unique without hitting your budget. The price of the product is just perfect for you.