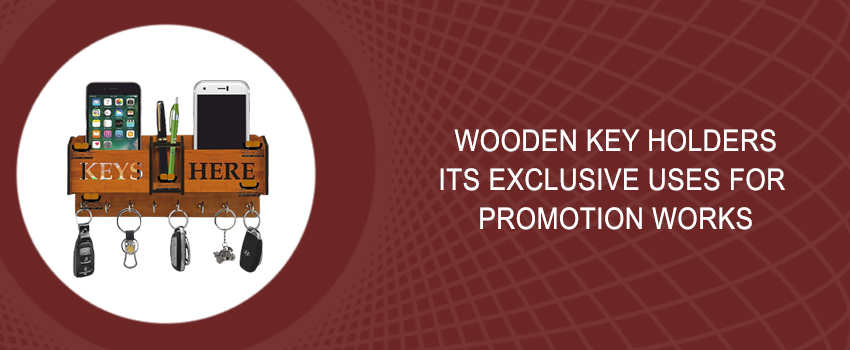 We all use key holders to keep our keys intact. Wooden key holders are always in use for many purposes. Although the local market is spread with imported key holders made of metal or plastic. These are in demand for everyone. We utilize them at home, in institutions and in our businesses.
It's like an important thing for every man to have one in his pockets. And every woman carries it in her handbag. But did you notice the type of key holder you hold? Maximum people don't. They only need a holder that serves the drive the use of holding keys together. But the wooden key holders have multiple uses to get them at a reasonable price you can connect with Wholesale Wooden Key Holders Gujarat.
Different features of the wooden key holders
Do you mind the kind of holder you are carrying? Does it merge with your class? You look exclusive, learned and rich. But a small thing like a wooden key holder can refute your brand. Wooden key holders are the solution. They look exclusive. They are fashionable and attractive. They are exclusive and durable. They are cut with a laser carving machine from our local hardwood. They are modified with deeply engraved text and images. Double-faced holders look nice and attractive to everyone.
Key holders are finished in sizes of 3x7 cm, 4x4 cm and 2×4.6 cm from pieces of wood with a thickness of 3mm or 6mm. They are made in various designs that demand everyone. These comprise oval, rectangular, round and square shapes.
How are the wooden key holders great for promoting your business?
If you've been looking for a way of endorsing your business, a customized wooden holder is good for that objective. Whoever receives it, keeps it. It looks gorgeous to everyone. It's a very good marketing and promotion tool. It can help you to infiltrate the market effortlessly.
Making a few wooden key holders for your clients supports you to keep them. They barely forget you and your business. To promote your business efficiently with these holders for your keys, you have to make them with the branding and links of your business. Give them to your cherished customers as gifts. They will appreciate it. They will feel so linked to you.
Currently, wooden holders are appropriate and popular for promoting businesses. They carry on a good business. You can give them out for free to your apparent clients. You can also give them to customers as gifts for remembrance. Sometimes, it's good to modify them with the name of their businesses. They appreciate it. Personalized wooden key holders are such a pleasing marketing tool. Try them once. You will appreciate me later for giving you this effective publicity method.
Qualities of the wooden key holder's supplier and whole sellers in Gujrat
• Supplying best quality products
• Able to customize the key holders as per the client's requirements
• Timely Delivery of the products
• Transparent pricing policy